Join Our Online Community!









Bumbuli Palliative Care Team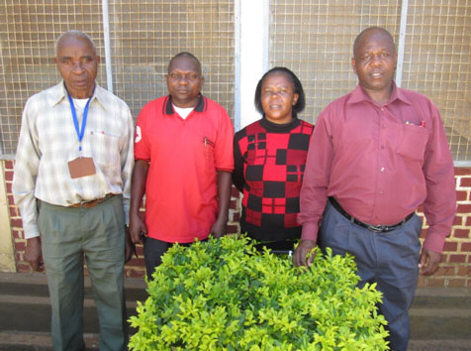 Bumbuli Hospital is one of the 20 ELCT hospitals. It was established by German missionaries in 1927. It has since been owned and governed by the NED-ELCT. It is located in the Usambara highlands 1,500 meters above sea level in Tanga Region. The hospital serves a catchment population of about 175,000 people. The residents are generally farmers growing maize, beans, cassava, tea and coffee.
The hospital runs a Palliative Care Programme which was established in 2006. The programme serves the people suffering from chronic conditions including HIV and cancer. It also supports the orphans and most vulnerable children (OMVC). Since its inception, 606 clients have been enrolled. The staff members include the Coordinator, Assistant Coordinator, Social worker, Clinician, Chaplain and 43 Community Volunteers. The hospital has been in partnership with the hospice of Boulder, Colorado, USA. This hospice partner financially supports the running of the Programme.
From left to right:Peter Mavura, S.W., Ev. Joel Lukindo, Asst.Coordinator Neema Vesso, Coordinator and Christian Shemhilu, P.C. Clinician.

"Partnership for Healthy Communities for A Healthy Nation"