Join Our Online Community!









Bulongwa Hospital
Bulongwa Lutheran Hospital (BLH) belongs to the south Central Diocese (SCD) of the Evangelical Lutheran Church in Tanzania ELCT). It is 35 old opened 1968. It is a voluntary Agency Hospital registered with the Ministry of Health. It has 120 beds. It gets grant from the government through the Ministry of Health for 27 staff and a bed grant for 90 beds only. Bulongwa Lutheran Hospital is a referral institution for about 100,000 people. Our catchment population is about 60,000 people. The community saved by BLH is mainly of low social economic class, although there are patients who come from big towns, Mbeya 110 km, Iringa 380 km, Njombe 130 km, Kyela 250 km, Tukuyu 130 km, seeking specialized services of orthopaedic, dental and gynaecological offered by the hospital. Most of the people in BLH catchment area small scale farmers growing wheat, maize, potatoes, beans, peas and a variety of fruits (apples, peaches, etc.) for home consumption. Pyrethrum and coffee are only on experimental stages as cash crops. Cows, sheep, goats pigs and chicken are also kept.
There are five wards: Maternity and obstetric ward, female ward, male ward, children ward and rehabilitation ward. The hospital has 6 doctors, 3 clinical officers, 20 nurses of different training and the total number of staff is 65. The hospital is starting a dental assistant school in 2004 and also school for nurses will be opened if teachers will be available. The hospital is supervising 6 dispensaries.
AIDS is a big problem in the area. Approximately more than 70% of deaths are due to AIDS and HIV related complexes. These deaths have left no household untouched. This has resulted in depriving every household of bread earning work workforce with consequences of increasing poverty in the community.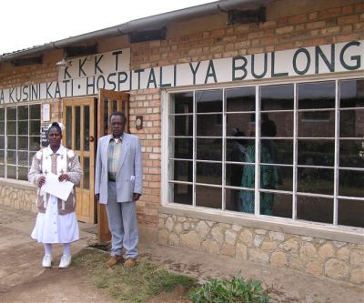 BULONGWA LUTHERAN HOSPITAL (BLH)
"Partnership for Healthy Communities for A Healthy Nation"