Join Our Online Community!









Objectives and Activities
Specific Objectives for the PC program include the following:-
1. Capacity building for health professionals on Palliative Care discipline
Activities
• To review various reports on clinical PC services reports eg APCA POS that enable the HQ team to provide clinical mentorship and oversight to the routine PC services at the facility level.
• To provide short term on-job training & scholarships in PC to health professionals from ELCT hospitals as part of improvement of skills and quality of our services available from our facilities
• To facilitate clinical placements in Palliative Care for Medical students and volunteers from local and international training institutions
• Organizing and facilitating the bi-annual Palliative Care management meetings which aims at sharing Palliative Care experiences and learning new concepts and approaches required for the management and provision of quality clinical palliative care services
2. Capacity building for community home based care volunteers on home based care services and Palliative Care.
• More than 505 community volunteers were trained at the time of CHAT project in 13 ELCT hospitals and later after the end of that project, Community volunteers have continued to increase in number (currently they are more than 600 volunteers trained through National AIDS control program –NACP curriculum) but they are seconded to be supported by different organizations following the Regionalization of HBC program partners where ELCT facilities are located. The organizations and NGOS that have been (at some point of currently)working in these different Regions includes Pathfinder International in collaboration with our HBC Volunteers includes TUNAJALI, Water-Reed, AFRICARE, MDH, etc.
• Although, currently ELCT is not directly supporting the Community Volunteers as the time of CHAT but these volunteers have continued to work with Palliative Care teams and provide reports. Through Supportive supervision the HQ team has been meeting the community volunteers during facilitative supervision for capacity building and ongoing program review related to the PC services they offer to their respective community.
3. Palliative Care service advocacy at the level of the health facility, diocese, district, regional and national.
ELCT Palliative Care program as among the Palliative Care pioneers in Tanzania has been working hard together with other stakeholders to promote Palliative Care Education and skills in Tanzania.
• As part of this mission, ELCT has participated in development of Palliative Care policy in Tanzania, the policy which is due to be inaugurated in the very near future.
• In addition to this, ELCT Palliative care program have played an active and crucial role in the development of the National Palliative care training manual which has been adopted by the Ministry of Health and social welfare (MOHSW) to be used for training purpose by the training institutions in Tanzania.
4. To facilitate mobilization of resources aimed at promotion and sustainability of Palliative Care services in ELCT PC implementing facilities.
It is due to this reason, that ELCT PC program at the HQ office have established various working relationship with partners churches, international donors, stakeholders, partners and friends both from local and international Palliative care fraternity who have seen our program going through several milestones in the last decade. A few examples in this case include
• Essential Palliative Care medicines have been provided by the program to 20 ELCT Palliative Care implementing hospitals twice a year but with aim of complementing the Church efforts to meet the needs of the very poor and needy families that are facing cases of end of life and palliative care diseases. Curently this service is supported by Evangelical Lutheran Church In America – The church partner that has played a vital role in establishment and growth of PC in ELCT.
• The program with support from different donors and partners has insured 16 vehicles for Palliative Care services in 15 hospitals and 1 vehicle for Palliative Care team at the Hq.
• 8 vehicles from CHAT/USAID
• 4 vehicles from ELCA
• 2 vehicles from Hospice partners
• 1 vehicle from Union Collage
• 1 vehicle from LCCB project.
• 7 Motorcycles donated by USAID are also in use for PC services in 7 ELCT facilities
5. Palliative Care linkages and networks establishment. Palliative Care services established networks and linkages with different parts within the facilities and in the community all aiming at providing comprehensive services to the clients and their families..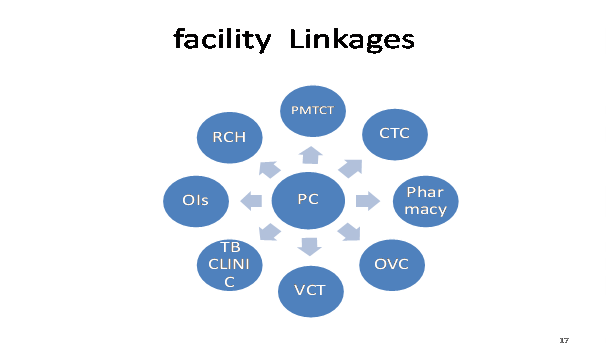 6. Conduct supportive supervision on Palliative Care services in health facilities, communities and psychosocial groups
• Palliative Care team of the HQ conducts supportive supervision to all ELCT hospitals implementing Palliative Care atleast once a year. Through these supportive supervision visits, guidance and technical support being part of capacity building to Palliative Care teams have been provided.
Psychosocial groups.
In honoring Palliative Care goal which is to improve quality of life of patients suffering from life threatening illnesses and their families, Psychosocial groups for Palliative Care clients have been formed in every hospital, these groups are for emotional, social and economic support through establishment of different Income generation activities and VICOBA( village community Banks).
Palliative Care teams of respective hospitals are responsible in linking these groups with different support available. The government through CHAC offices in districts has been very supportive but also other organizations.
7. Palliative Care consultation to other Palliative Care providers and training institutions:
As part of improvement of the PC services in the ELCT facilities, the Palliative care staff at the HQ are also available for various consultation, clinical support and mentorship of the existing PC services within ELCT hospital network. This is also part of the fact that PC is still a new discipline of Medicine in Africa and Tanzania at large, and hence most of the capacity building is based on the on-job training and support.
8. Building partnership for sustainability for individual sites and national office:
ELCT Palliative Care is linked with different Partners and stakeholders in implementation of Palliative Care services within and outside the country as it is shown in Stakeholders and partners page.
As part of the efforts to develop a sustainable PC services, ELCT PC program has been able to establish about 17 Hospice partnerships (to 17 ELCT facilities) during the program life. Although some of these partnerships have not been able to remain viable for long term basis but most of these are still functioning.
We are still looking for more partnerships from all over the world and all organizations involved in support of Hospice work like International Hospices, Rotary clubs, Faith based organizations, Development programs, International Donors etc, are very welcome to partner with ELCT for the scale up of Palliative care work which might range from clinical support, research, training etc

"Partnership for Healthy Communities for A Healthy Nation"