Join Our Online Community!









Nyakahanga DDH Palliative Team
List of Acronyms used in the report:
| | |
| --- | --- |
| AIDS | Acquired Immune Deficiency Syndrome |
| APCA | African Palliative Care Association |
| CME | Continuing Medical Education |
| CTC | Care and Treatment Clinic |
| CVWs | Community Volunteer Workers |
| ELCT | Evangelical Lutheran Church of Tanzania |
| ELCT-KAD | Evangelical Lutheran Church of Tanzania, Karagwe Diocese |
| HBC | Home Based care |
| HCWs | Healthcare Workers |
| HIV | Human Immunodeficiency Virus |
| IPD | In Patient Department |
| NDDH | Nyakahanga Designated District Hospital |
| NGOs | Non-Government Organizations |
| OPD | Out Patient Department |
| ORCI | Ocean Road Cancer Institute |
| PC | Palliative care |
| PITC | Provider Initiative Testing and Counselling |
| PMTCT | Prevention of Mother to Child Transmission |
| RCH | Reproductive Child Health |
| TCT | True Colours Trust |
| TFDA | Tanzania Food and Drugs Authority |
| VAH | Voluntary Agency Hospita |


1. Introduction:
NDDH was founded in 1912 and started to serve as district hospital in 1972. It is owned by ELCT, Karagwe Diocese. It is situated in Karagwe District, in Kagera Region, North-western corner of Tanzania. It has 250 employees and the hospital capacity is 224 patients' beds.
Palliative Care (PC) programme was established at NDDH in 2008 and incorporated these care within hospital services. The programme provides both facility-based and community-based PC. In February 2014, APCA in collaboration with True colours Trust Fund shown their interest in our PC programme thus granted us £ 4,985 through the project entitled "Scaling up Hospice and Palliative care services". The grant length was 12 months: from 01st February 2014 to 31st January 2015. This project aims at:
1) Provision of holistic PC to patients with life-limiting illnesses by addressing the needs of patient and their families in totality: physical, psychosocial, and spiritual.
2) Raise community awareness on PC needs by building on their knowledge so as to extend and provide quality services to all in need.
The cardinal goal is to improve the quality of life of patients and their families facing problems associated with life-limiting illnesses.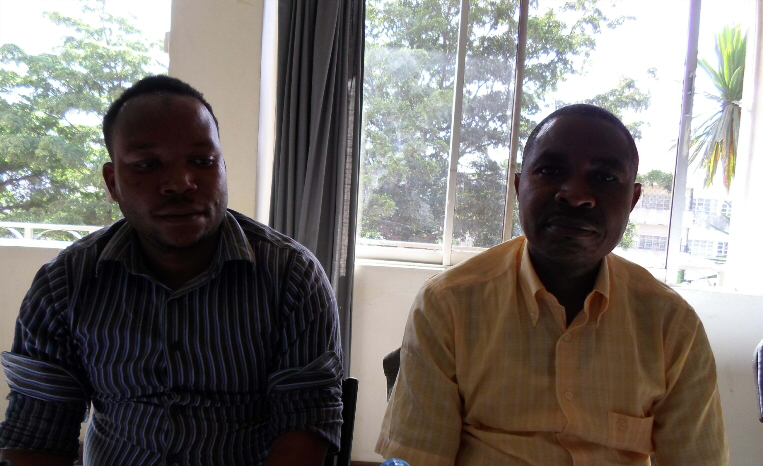 2. Implementation of Project
SUMMARY: PLANNED AND IMPLEMENTED ACTIVITIES
ACTIVITIES

Month of implementation √ =activity done

X = activity expected to be done

Months of the project

1

2

3

4

5

6

7

8

9

10

11

12

PHASE ONE

PHASE TWO

Feb

Mar

Apr

May

Jun

Jul

Aug

Sep

Oct

Nov

Dec

Jan

Holistic PC to all ages

Enrol eligible adults and children for PC

√

√

√

√

√

√

√

√

√

√

√

√

offer PC in relation to patient needs (holistic)

√

√

√

√

√

√

√

√

√

√

√

√

Oral Morphine

Complete procurement process TFDA

√

Travel & transport (Karagwe –D'Salaam)

√

√

Education on PC

Continuing medical education (CME)

√

√

√

√

√

√

√

√

√

√

√

3 days staff training on PC(20 HCWs)

√

3 days training on PC (20 CVWs)

x

√

√

H/education to patient & family caregivers

√

√

√

√

√

√

√

√

√

√

√

√

PC advocacy (via community radio)

Raise community awareness on PC issues

( fight stigma, value of PC to all ages etc)

√

√

√

√

√

√

√

√

√

√

Increase access to PC in rural areas

Outreach: day care and HBC

√

√

√

√

√

√

√

x

x

√

√

√
Activities undertaken during the reporting period
The reported period started on 1st February 2014 – 31st January 2015. The activities undertaken in this period are as follows:-
1. Holistic PC to all ages
Patients' enrolment of eligible adult and children with life-limiting illnesses continued. We targeted to enroll 960 in 12 months period of the project. This was equivalent to 80 patients per month. As we look back to examine our performance, I am proud to say that we have done a nice job. For more information and statistics refer to page 6 in this report headed "project outputs/ achievements".
Community volunteers and our PC core team conducted home visits as needed. Pain and symptoms managed in a holistic way.
2. Purchasing Oral Morphine
The need of oral morphine in managing moderate to severe chronic pain to our needy patients is there and steadily increasing. In this quarter we made a trip to Ocean Road Cancer Institute (ORCI) based in Dar es Salaam and we purchased 60 litres of oral morphine. This was to ensure that oral morphine is available in our hospital all the time. In the 12 months of the project 30,050ml of oral morphine were consumed by needy patients. At the material time of reporting we had about 45 litres of morphine solution in stock. Among the achievement in this area, through education our staffs are no longer with opiophobia. Moreover, our staffs are now skilled to assess pain and administer the right analgesia to the right at the right dose, right time, and right route.
3. Education on PC (awareness rising)
Education has been used as a key to enable us provide Holistic PC. This has promoted the best practice in various forms
3.1. Health education
Health education was given to clients/patients attended on individual basis as well in groups. This action alone helped to clear some myths and misconceptions on various issues thus lessening fears related to transmission of HIV, stigmatization, diagnosis and prognosis, death and the dying, just to name several. Nevertheless, health education remains significant in PC, helping patient and their family to understand better the faced problem and how to go about it.
Moreover, we managed to air out radio programme (community radio) particularly Karagwe FM – 91.4. The programme "Afya ya Jamii" which means community health run once a week. The feedback shared from the audience – messages communicated are useful more educative and encouraging behaviour change. Our effort is to ensure PC messages reach the widest audience.
3.2. Continuing Medical Education (CME):
We planned to have one session a month to our staff. Our staff showed high interest - wanting to know more on various issues in PC. This stimulated us to conduct more than one session in one month. However, sometimes the CME schedule was very tight in such a way we failed to penetrate. All in all we achieved much in both number of sessions and number of participants in that presented session. Initially, we targeted 40 HCWs per teaching session. It was encouraging that each session over 50 HCWs attended.
4. Increasing access of PC in rural areas
We faced difficulties in conducting outreach services in the beginning of this last quarter. Patients were largely visited in their homes by the help of our volunteer network. Pain opens the door for holistic PC. But in November 2014 we received funds (second instalment) and outreach schedules regained. Patients and their family were supported holistically – addressing pain in totality: physically, psychologically, socially and spiritually. Referrals to other centre were done for services not provided by our hospital.
a. Project Outputs/Achievements
We targeted to enroll 960 patients in the whole project lifetime (12 months period); this is equivalent to 80 patients per month. As we look back to examine our performance, great achievement was attained in this area. Cumulatively, up to 31st January 2015 a total of 834 newly patients were already enrolled and enjoying PC, of whom 57 are children. This achievement is equivalent to 87% of the expected number of patients targeted.
By the aid of CVWs follow-up visits conducted to patient in their respective villages. A number of households visited (16th Oct 2014 to 31st Jan 2015) were 1355. Generally, this quarter our volunteer team had more visits than previous quarter (1355 versus 1153). Our effort is to use the available community resources (CVWs and family caregivers) to strengthen our networks for the better PC. Follow-up visit help adherence for those on ARV through our volunteer network.
For pain killers, including oral morphine we ensured its availabilty and accessed by the needy patients.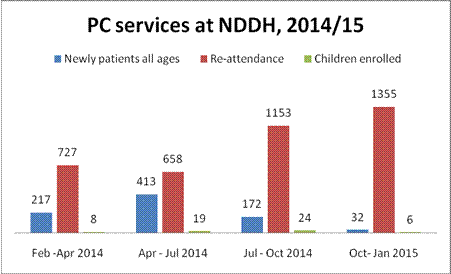 Figure 5: Scaling up PC services at NDDH, Feb 2014 to Jan 2015
Figure 6 depicts the progress and achievements gained in the project as follows:
- New patients enrolled in 12 months period: 834 patients (target 960 pts) equal to 87%.
- Number of HBC follow up conducted to patients in quarter 4: 1355 visits
- Number of HBC follow-up visits conducted in whole period of the project: 3893
- Cumulative eligible children provided with paediatric palliative care: 57.
One of the Nyakahanga PC key strategies is to produce quality care through education. The focus of the programme is learning and teaching to both health professionals and community volunteers. Great achievement was attained. We planned a three days workshop to our staff – training 20 health professional, this was done. At the moment every department in our hospital has PC trained staff in PC issues, thus integrated within hospital CTC, RCH, OPD and IPD. But also we offered three days trained 20 CVWs. Building the capacity of frontline workers aim at improvement and strengthening of the delivery of quality PC services. ELCT headquarters based in Arusha held a two days meeting (29-30 January 2015) involving PC coordinators in ELCT health facilities all over Tanzania. The meeting provided a good platform for enhancing sustainable PC networks, as well as sharing information on PC developments in Tanzania to garner new support.
b. Challenges faced during the period and how they were addressed.
- The delay in releasing the 2nd instalment grant crippled us to move on with our work plans. Despite of these financial constrains we managed to survive – improvising scarce resource we had so as to meet multiple needs of our patients in PC.
- Due to ignorance many cancer patients seek healthcare too late, when cancer is in an advanced stage, often incurable. The hospital opened Cancer screening clinic which integrate its services with PC. Health education to the community is an ongoing process to detect it in its early stage.
- Finalizing successful this project add credibility to our funders; however PC being in its infancy needs nurturing for PC development. The number of needy patients is really increasing while resources are few. Local and external support is greatly needed for sustainable PC.
c. Lessons learnt and general observations
We have learned that
- Small deeds are better than greatest intention. Through APCA/TCT small grant programme we have managed to do many things – reflecting better PC in the future.
- When we join hands everything is possible. With patient-centred approach – everyone has a particular expertise that contributes to lessen pain and bring comfort to PC patient.
- Education is a key to better PC. What is learned by one man is invested to all men and is owned permanently.
d. Activities (work-plan) for the next reporting period
Holistic PC to all ages
- Enrolment of eligible patients regardless of their age – is an ongoing activity.
- Offer PC support to patient in relation to their needs.
Drug availability (oral Morphine)
- Ensure availability of essential PC medications including oral morphine and their management.
Education on PC
- We will continue to give the CME to our hospital staff and mentorship to CVWs
- Continue offering health education to individual patient and family caregivers.
PC advocacy (via community radios)
- Increase awareness in communities on PC so as to own it and become more responsible in palliation and care.
Increase access to PC in rural areas
- Continue outreach services: in form of day care and HBC
- Formation of various clubs and self-help groups
e. Sustainability plans
Education is lifelong asset, the PC skills gained by learners are owned for the rest of their lives. We expect the skilled professionals to continue teaching, passing on these special skills to others – hence sustainability. We will continue to cultivate a sense of ownership on the served community on PC services provided to them. From this point we can have a change agenda from donor dependence to self reliance generation, community members becoming more responsible in running PC.
Suggestions, recommendations and key action required from APCA
We realize the need of PC growing – going beyond cancer and HIV, with this point we ought to plan to contain the big number of these patients. In order to succeed integration of PC services into the health system is mandatory. We need to have strong team to work with not only in health system but also other sectors such as education, policy makers, lawyers, and NGOs. Therefore, APCA in its strategic plan can think PC services in this spectrum – encouraging forums for learning and change to happen.
Many cancer patients in area come very late to seek healthcare, with advanced stage – when there is no possibility of making any intervention to control the disease spread. We just end with control of distressing symptoms, including pain management. PC providers need to act in a preventive manner rather than reactive way. Fortunately, many cancers are preventable. Let us do something on this, to change people's mindset particularly in early treatment seeking behaviour. PC providers need to be knowledgeable in screening cancers in its early stage e.g. cervical cancer, breast cancer and the like. In doing so we can rescue the lives of many.
"Partnership for Healthy Communities for A Healthy Nation"